Product: Pole coil consolidation press for hydro pole windings
Type: AT-PCCP
Edition: 07/13
download product information as PDF (101 KB)
1. Description
Pole coil consolidation press with manually moveable press gantries (pressing force 87,5t per portal), induvidually controllable, flexibly combinable.
Available with 1 or 2 movable tables.
2. Technical Data
8 induvidually controllable press gantries:
Overall pressing force: 700 t
Press space length: 3000 mm
Press space depth: 1000 mm
Press space height: 200 mm – 700 mm
Load weight: max. 10 t
Operation pressure: max. 700 bar
Machine mass: approx. 28 t
3. Scope of supply
The press consists of the following main parts:
Base frame
Moveable press table
Press portals
Hydraulic aggregate
Hydraulic control – PLC
Heating equipment – rectifier
4. Operation
The Press is designed to press the pole coil copper and insulation during heating up to
the curing temperature. The press forces close the air gaps between the copper and the
insulation so that the insulation and the copper can fuse into a solid part. The pressing
process is controlled by PLC. The heating process is controlled by time switches.
5. Packshot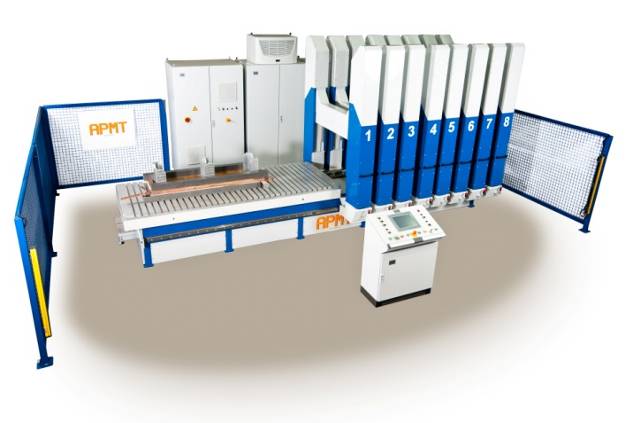 Pole Coil Consolidation Press AT-PCCP / Polspulenpresse